Steve and Patti Wolfrom spent their careers in the communications and marketing professions. Their common interests in community service, volunteer leadership and communications brought them together as a couple. Their shared passion for excellence in all forms of communication and marketing led them to establish an endowed scholarship for a student pursuing a communications career at NWFSC.
Steve graduated from Bowling Green State University (Ohio) with a degree in journalism. He worked for newspapers in Northwest Ohio as a sports writer, regional editor and editor-in-chief for a daily newspaper. He eventually left the journalism world to work in public relations and marketing for electric utility cooperatives, winning numerous national awards for his work. He became CEO for an Indiana electric cooperative before moving to Niceville to become vice president of a CHELCO division from 2013-2019. He became active in the local area in community service. Among his numerous activities, Steve served two terms on the NWFSC Foundation Board. He is also active in his church and as an artist, which he has continued since his retirement.
Patti earned a BA in communications from Miami University (Ohio) and an MBA in marketing from Bowling Green State University. Her career included technical editing, marketing, fundraising and management for a variety of organizations. Exchanging her full-time career for full-time parenting, she remained involved in school, church and community organizations and occasional part-time work. Her focus now is mostly faith-based, involving personal study, volunteer work and leadership roles within her church, the Council of Catholic Women and Niceville Catholic Outreach.
Steve and Patti have two children, Amanda and Zachary, who graduated from Niceville High School. Amanda graduated from the University of Florida and works as a marketing manager at a local property management firm. Zachary is a business major at Florida State University.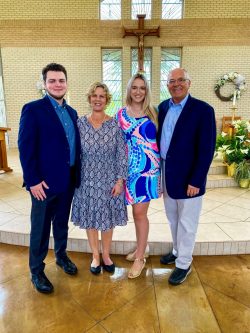 Share this article