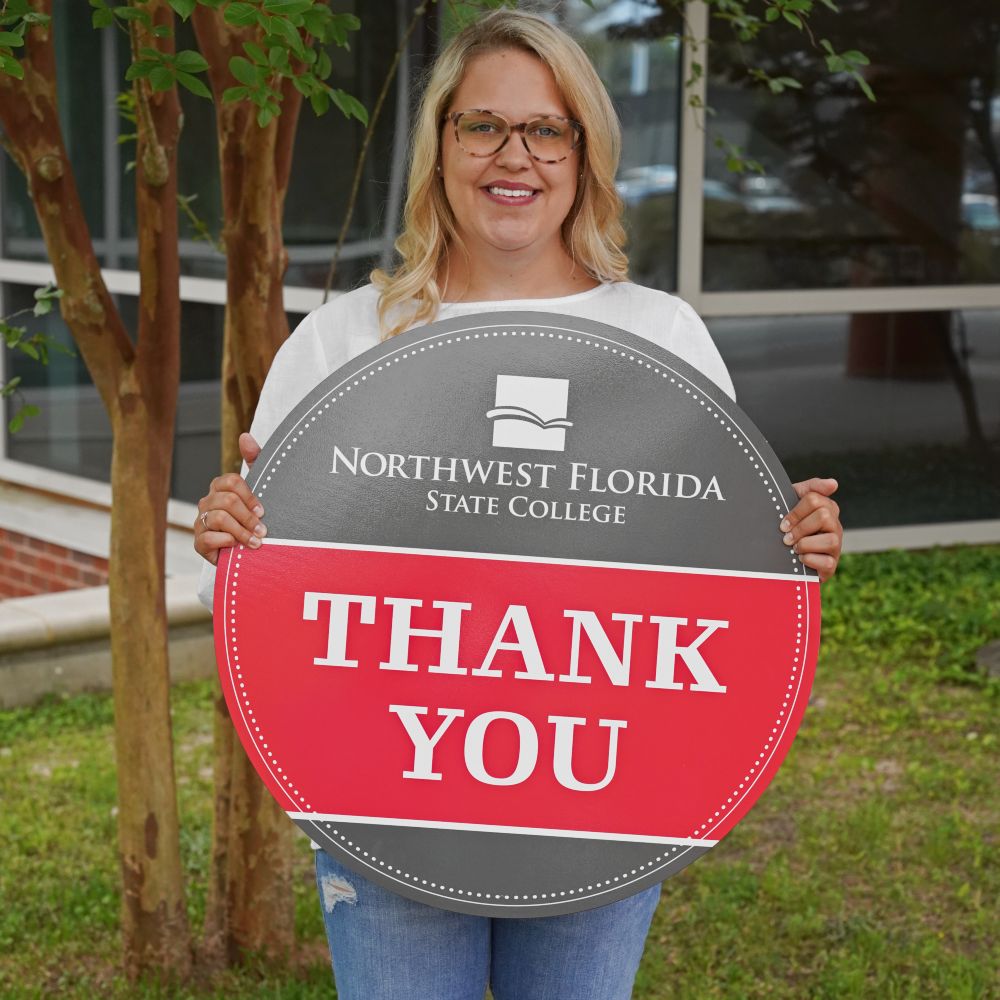 Annual Giving
The Northwest State College Foundation sincerely thanks all of our donors for their generous contributions, which have helped students take flight at NWFSC. The list below recognizes our contributors at their annual giving level. Donors are grouped alphabetically by individual then by business/organization.
2019-20 NWFSC Friends and Benefactors
July 1, 2019 – June 30, 2020
Philanthropist ($10,000+)
Charlotte and Bo Arnold
Eileen Arpke
Dotty Blacker
Leonora and Jeff Claudio
Saundra and Leon Daggs
Kristine and Mo Evans
Mary Ogletree
Okaloosa Public Arts Inc.
Kim and Brian Pennington
Bruce Shavey
Cathy and Dennis Stuteville
Bonnie and Steve Wills
Judy-ann Zoghby
30A 10K, Inc.
Florida College System Foundation
Gene Haas Foundation
Gulf Power Foundation, Inc.
National Fish and Wildlife Foundation
St. Joe Community Foundation, Inc.
Benefactor ($5,000 – $9,999)
Susan and Wayne Campbell
Jim Chambers
Janice Eichorst
Cindy Frakes
Stacey and Reynolds Henderson
Judy and Devin Stephenson
Inga Vonder Flue
Sarah and Vernon Walker
Guy Wills
All Sports Association, Inc.
Destin Water Users, Inc.
ERA American Real Estate
Eglin Federal Credit Union
eSponsor Now, Inc.
Impact 100 of Northwest Florida Inc.
Association of Florida Colleges, NWF Chapter
National Defense Industrial Association
Newman-Dailey Resort Properties, Inc.
Northwest Florida Symphony Guild
Raytheon
Regional Utilities of Walton County
South Walton Utility, Inc.
Trustmark Bank
Twin Cities Woman's Club
Patron ($1,000 – $4,999)
Anonymous
Shane Abbott
Kimberly and Marek Bakun
Heidi and Brad Blalock
Jennifer Boxen and Ryan Aycock
Carolyn and Gary Dietzen
Phyllis and Chuck Douglass
Michael Erny
Charlotte Flynt
Liz and Mack Gay
Tom Gluck
Sandra Hanson
Sandra Hart
Stacy and Bill Head
Philip Heise
Pat Hollarn
Jessica Holley
Mariann Johnson and James Watson
Barbara Jones
Cristie and Art Kedroski
Lori and Chuck Kelley
Lynn Ketter
Charlotte and Kit Kuss
Linda and John Leatherwood
Don Litke
Daphne Martin
Michelle McGee
Annie and Dwight Mills
Laura and J.D. Peacock
Dale Peterson
Margaret and James Phillips
Dolores and Joseph Purka
Melissa Thrush and Christopher Reid
Sharon and Donnie Richardson
Kathy and Jene Robinson
Liz Robison
Chelly and Jeff Schembera
Ruth Anne and James Stevens
Barbara and Vern Umholtz
Denise and Kendall Wagner
Mary and Edwin Watts
Maria and Randy White
Jean and Jerry Williams
Tracy and Alan Wood
Kathryn and Dewayne Youngblood
Alpha Phi Alpha/Rho Omicron Lambda Chapter, Inc.
Benevity Community Impact Fund
Bernice R. Shanklin Charitable Foundation, Inc.
CCB Community Bank
Chesser & Barr, P.A.
Delta Air Lines Foundation
Destin Snowbirds, Inc.
Doolittle Institute, Inc.
Ellucian Company L.P.
Emerald Coast Association of Realtors
Emerald Coast ENT & Allergies, PA
Fort Walton Beach Medical Center
Its Electric of 98, LLC
Lockheed Martin
Mattie Kelly Arts Center Ushers
Okaloosa Gas District
Performance Contractors, Inc.
Robert E. Hruby, M.D., P.A.
Shoreline Church, Inc.
The Boeing Company
The John & Gaye Patton Charitable Foundation, Inc.
Wells Fargo Foundation
West Florida AHEC
Supporter ($500 – $999)
Cole Allen
Pauline Anderson
Glenn Barfield
Marie-Claude and Don Bohler
Bruce Bowman
Anthony Boyer
Carter Caywood
Jane and Allan Comer
Tracy and Lamar Conerly
Heather Dietzold
Jean Wallace and Tom Ellis
Allison Everitt
Sam and Larry Fincher
Lee Flowers, Jr.
Sue and Jim Greene
Patty and Dick Harp
Barbara and Robert Hewett
Judy and Carey Huff
Shawni Jones
Sally and Gordon King
Deborah Kish
Kam Kyzer
Yumi and Todd Lafortune
Lisa and Lee Lewis
Lee Lewis
Theo and Petra Lieven
Sam Lombardo
Roberta Mackey
Caroline and Patt Maney
Patrick McArthur
Alison McDowell
Maurice and Evelyn Mettee
Patty Mixon
Chris Mizell
Molly* and Charlie Myers
Nan and James O'Connor
Maurita and Donald Ockerman
Lisa and Dennis Peters
Tami and Steve Rhodes
Vicki and Bob Richburg
Ashley and Andre Rogers
Cheryl and Hu Ross
Meagan and Ramsey Ross
Roxanne Ruckdeschel
Julie Schrodt
Jeanette and Steve Shires
Wanda and Stan Siefke
Nathanial Slaton
Margaret and Tom Stanton
Camilla Stoeckel
Cookie and Chris VonHaven
Helen and Loyal Weaver
Patty and Steve Wolfrom
Steve Young
Ajax Building Corporation
Beach Fine Wines and Spirits
Boeing Foundation
Centennial Bank
Chuck Stevenson, O.D., P.A.
City of Niceville
BBVA
DAG Architects
David Costa Enterprises, Inc.
ETA Chapter, Mu State
Fudpuckers, Inc.
Harborwalk, LLC
Jacobs Technology
James E. Plew Elementary School
Magnolia Grill
PCI Gaming Authority
Playground Music Center, Inc.
Robert C. Morell, M.D., P.A.
Streeter Vision, Inc.
Wal Mart #3439
Walton Republican Women Federated
Worldwide Spirit Association
Friend ($100 – $499)
Tamara and Robert Adams
Mandy and Eric Aden
Joseph Agostinelli
Deborah and Ray Angerman
Monica Autrey
Jennie and Jim Bagby
Barbara and Freddy Baker
Craig Barker
Virginia and Harry Barr
Jan and Don Bishop
Jean Blumer
Glenn Brackett
Nicholas Briscoe
Paul and Kathleen Broaderick
Joy Brown
Ira Mae and Gaius Bruce
Susan Burgess
Dennis Burns
Dorian Nicole Busby
Gail and James Campbell
Jack Capra
Deborah and Joseph Carloni
Larry and Cathy Casey
Miriam Cavalluzzi
Donna Coffey
Susan and David Cohen
Valerie and Noah Converse
Diane Cook
Mary Cruce
Christine Cruickshank
Angelica Cummins
Tom Davis
Doris Day
Penelope Dearman
Shandra Dejournette
Mariam Dittmann
Ann and Tom Earley
Douglas Eichorst
Phyllis Enzor
Laurie and Jack Feldman
Cynthia and Richard Fellows
Irene and Howard Fisher
Janet Flynn
Donna and Daniel Fox
Nancy and Thomas Fox
Alicia and Brian Franklin
Diane Fraser
Aaron Galonsky
Peter and Benjamin Geleskie
June Gibson
Elisabeth and Joseph Skelly
Sarah and Ralph Goodman
Amanda and Ben Gordon
Emily Cole Gregory
Mary and Kevin Greybill
Eileen Guin
Beatrice and Ramon Gutierrez
Rachel Anne Gwin
Penny Habetz
Harlan Hall
Nancy and Chad Hamilton
Helen Hammond
Jonathan Hampel
Hazel and Charles Heifner
Janice and Herbert Henderson
Tracy Henley
Natalie and Doug Herndon
Shirley Hill
LaShun and Walter Hooks
Mary Jo and Chuck Horner
Mark Horrell
Christy Hubbard
Diane and Andrew Hudson
Kerry Huffman
Gayle and Michael Hughes
James Humphrey
Vickie Hunt
Kathy and Dan Jarvis
Joy and Doug Johnson
Janet and Gary Johnson
Robin Johnson
Hemant and Ekta Kade
Suzanne Keithley
Champee and William Kemp
Robyn Landry
Bob Larson
Annette Lee
Arthur Lester
Colin Lipnicky
Susan and Buz Livingston
Virginia and Dave Llewellyn
Alicia* and Clint Mahle
Nicole and Brad Maloz
Carole Martin
James Martin
Jeanne Martin
Julie Mayeux
Inger McGee
John Mills
Karen Mischlich
J. Jean Mitchell
Mary Mizell
Henry Lee Moore
Christina Morris
Mark Mueller
Cori and Robert Murphey
Nancy Murphy
Kimberly and Joseph Nacchia
Jamie Nelson
Beth and Clark Norton
Pamela and John Ottesen
Jane Parker
Kay and Gary Parsons
John Patten
John Pearsall
Harold Peek
Donald Pendergraft
Olga Pizzolato
Anne Porter
Cheryl and Gillis Powell
Pauline and Rodney Powell
Franceen Pozo
Deidre and Jonathan Price
Donna and Leonard Rayburn
Shelley Reifschneider
Carla and Dick Reinlie
Deborah and Sam Renfroe
Alexander Ribao
Cathy and John Rickard
Debra Riley
Elizabeth and Darryl Ritter
Edward Rosentel
Benjamin and Peter Rouse
Lars Runar
Yili and James Rutledge
Maria and Nathaniel Ruttig
Teresa and Pat Ryan
Crawford Sandefur
Julia and Eric Sandwith
David Schjott
Amelia Schneider
Donna and Dick Schoditsch
Jamie Seifert
Robert Shemwell
Amy Beth Silva
Daniel Sluka
Scottie Smith
Skylar Smith
Mary and John Snell
Erlinda Snipes
Charlie Stevenson
Grace Stewart
Iris and Bill Strunc
Nancy Sulte
Maria Sumrall
Sally Surgnier
Jeffrey Talbert
Susan and Michael Tham
Julianna Thompson
Rhonda Trueman
Julie Van Meter
Carolyn and Larry Van Pelt
Caisson Vickery
Laurie Von Kaenel
Martha and Billy Walker
Kristeen Winfield
Nancie and Michael Warner
Lynn and James Watson
Aimee and Tom Watts
James Wiggins
Sharalyn Wight
Rose Wilkerson
James Wilson
Joel Wilson
Barbara and Willis Young
Corina Zalace
Ajit Janardhan MD, PLLC
Cloyce Darnell, Inc.
Dan's Discount Jewelry and Pawn
Dr. Peter T. Oas, P.H.D., P.A.
Enterprise Pizza Partners, LLC
Florida Association of Orthodontists
Fountainhead Press
Gulf Power Company
Habetz Law Firm, LLC
Homes & Land of the Emerald Coast
Ilona Reiker Attorney at Law
J Tashik Construction Corporation
Johnson & Johnson
Kakela H P LLC
Lake Air Service LLC
Lake Powell Community Alliance, Inc.
Lynn Keefe MD Pediatrics, LLC
Murray R. Hay Trucking, LLC
Network For Good
North Santa Rosa News
Emerald Coast ENT & Allergies, PA
Paxton School
Personal Care Family Dentistry, P.A.
Pittman Building Supply, Inc.
Pounders Hawaiian Grill Niceville
Robertson/Curtis, Inc.
Sharon S. Chen DDS, PA
Suncoast Security Inc
Taco Town ToGo
The Ralph Edward Bliss Trust
Town of Cinco Bayou
Tracy Louthain Communications
W.R. Billingsley Farms
*deceased