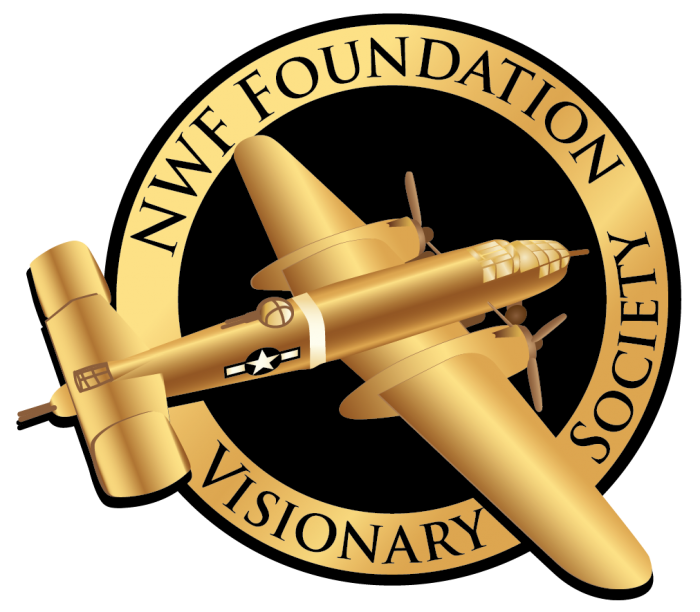 Visionary Society members are an elite group of benefactors committed to building a strong foundation for years to come. Gifts to the Visionary Society allow you to directly accomplish your philanthropic goals while helping Northwest Florida State College fund its initiatives. The Visionary Society is open to any individual or organization who establishes an endowment at Northwest Florida State College.
As a valued Visionary Society member, you will receive:
An exclusive lapel pin, worn only by visionaries to demonstrate your support for the NWFSC Foundation and the college upon completion of endowment.
Recognition on the donor wall in the Mattie Kelly Arts Center lobby upon completion of endowment.
Recognition as an exclusive Visionary Society member on the NWFSC Foundation website and other publications.
President's Perspective, a publication that offers the community news of the College's efforts.
Invitations to attend special college-sponsored events and receptions such as the President's Christmas Party/NFSO Holiday Pops Concert, NWFSC summer musicals and other student theatrical productions, and exclusive Visionary Society event.
---
The College would like to especially recognize the friends and benefactors of the following endowments
The following list is current as of June 6, 2022
Awards
Eileen H. Arpke Faculty Excellence Award
Scholarships
Adare Marie Weaver Classroom Teacher
AFC/Dianne Kostelny
AFC/Gaius Bruce
AFC/Gwen Street
AFC/Hosmer Roberson
AFC/Terry Brown Memorial
AFC/Terry Comeau
Air Force Association/Bennie Putnam
Air Force Association/Bill Kirk
Air Force Association/Clyde Wood
Air Force Association/Jim Shambo
Air Force Research Munitions Laboratory Directorate
All Sports Association/Perry Ballard
Allyn C. and Blanche S. Donaldson
AmVets Post #78
Angel
Ann Teel Hatcher
Anna Bell McDonald Nursing
AORN of the Emerald Coast
Arnie Hart Memorial Art
Baker High School Alumni Association
Bank of America
BBVA Bank BSN
Beach Community Bank
Betty Thomas & Mary Thomas Herrington Nursing
Bill and Inga Vonder Flue Nursing
Bill Pullum
Boys & Girls Club of the Emerald Coast
Brian and Kim Pennington
Brigadier General James R. Pugh, Jr. Health Tech
Bruno and Chieko Boettcher
Building Industry Association
Burke Family
Burns Family Nursing
C. Albert Nyquist Scholarship
C.E. Fikes
C.S. "Clem" Gatlin Baseball
Carlton Tucker
Carol Luedecke
Cathy Sue Wallis
Charles and Eileen Arpke
Charles W. Clary Drafting & Architectural Design
Charlotte Arnold Fine Arts
CHELCO
Chief Guy J. Wills Jr. Firefighter
Child Care Services
Choctawhatchee Class of '66
Chris R. Ready Memorial
Christian LaRoche
Christian Thomhave Memorial
Cleophus McIntosh/Omega Psi Phi
Cliff and Frances Herron Performing Arts
Cloyce and Sharilyn Darnell
Coach Patrick Harrington by All Sports Assoc. Endowment
Col. H. Kirby and Dorothy C. Smith
Colonel George E. 'Bud' Day/ROTC
Constance Morgan, R.N. Memorial
Crestview Area Chamber of Commerce
Crestview Kiwanis Club/Dale E. Rice, Sr.
Crestview Kiwanis Club/L.G. Staff
Crestview Kiwanis/Frances M. & John R. Stafford
Crestview Rotary Club
Cultural Arts Alliance of South Walton
Cummins Computer Science
Dale E. Peterson Hospitality
Darnell Family Health Technology
David Bert Vaughan Nursing
David G. Baker Memorial
Dee Mueller Nursing Scholarship
DeFuniak Springs Garden Club/Rubye Burton
DeFuniak Springs Kiwanis Club
Della Reese Performing Arts
Delores 'Doll' Seymour Strangi
Destin Area Kiwanis Club
Destin Community Center
Destin Rotary Club – Ethics in Business
Destin Rotary Club/Gene Westerfeld Memorial
Destin Rotary Club/Jesse and Houston Beaumont
Destin Woman's Club/Carol & Bob Winsett Memorial
Dewey E. 'Buck' Destin
Dewitt and Else Hardmant Performing Arts
Diana Pryor Sloat
Donald E. Hood Theater Arts Scholarship
Doodle Harris Family Management BAS
Doolittle Raiders/FWB Chamber of Commerce
Doris Jean Stuteville Nursing
Dr. Audrey A. and Robert J. Hains Teaching
Dr. C. Kirby Smith Memorial Nursing
Dr. Eltse Barnhill Carter
Dr. John A. Johnson, Jr. Nursing
Dr. Paul & Majes (Maggie) Hsu Project Management
Earl Hutto Nursing
Eddie E. and Ruth S. Phillips
Eglin Air Force Association Shirley Pigott/Bob Patterson
Eglin Assn of Chief Master Sergeants/Reate Davis
Eglin Association of Chief Master Sergeants
Eglin Federal Credit Union/Reate Davis
Eglin Federal Credit Union/Thomas Braswell
Eileen H. Arpke
Emerald Coast Association of Realtors
Emerald Coast Foundation Art
ERA American Realty Charitable Foundation, Inc.
Ernie Green Memorial
Etta Stephenson
Fern Arnold Agricultural Science
First Florida Bank
First National Bank of Crestview
Fisher Family Scholarship
FNBT.com Bank
Fort Walton Beach Lions Club
Fort Walton Beach Medical Center Auxiliary
Fort Walton Beach Rotary Club
Fort Walton Beach Rotary Club/John T. Morgan III
Fort Walton Beach Rotary Club/Kay Stokes
Frances Coughlan Holm/Gordon N Coughlan Nursing
Frances Herron Dance Studio
FWB Medical Center Auxiliary/Ruth Getz Memorial
FWB Medical Center Health Technology
Garfield Taylor
Geoffrey Scott Hough EMT
George and Alice Hearn Nursing
Gertrude Gillis Campbell
Grace Lutheran Church/Frances & Slaton Woollard
Greater Fort Walton Beach Chamber of Commerce
Gulf Power Foundation
H. Glenn Bixby Health Technology
Hancock Bank
Harriet Ann Kent Nursing
Harry O. Seymour
Helen Richardson Nursing
Howard and Irene Fisher Scholarship
Hoyt-Jolley Foundation
Hugh T. Handley Teacher Education
Hugh T. Smith Family
Hurlburt Field Assn of Chief Master Sergeants
Ira Mae Bruce
J.R.L. Conyers Lodge #364/R.L. Campbell
Jack and Mary Lou Foster
Jack and Mary Margaret Henderson
James A. and Bobbie Durham Teaching
Jamie and Tess Wallace
Jeanette and Charles Clay Engineering
Jeff & Leonora Claudio
Jeff L. Schembera
Jerry E. Brunk
John and Berta Creel
John Gregory Sloat
Joppa Masonic Lodge #7 /ACTSO
Judge Ben Gordon Memorial
Judy Rice
Junior League of the Emerald Coast
Kappa Alpha Psi
Kay Litke Culinary Arts
Kedroski Family
Kiwanis Club of FWB/Buddy Brackin Memorial
Kristen Ann Klausutis Memorial
Kurt K. Eichorst
Lamar Conerly Honors
Larry and Helen Hewett Music
Leading Women
Lilienthal Family
Linda Whitenton Nursing & Allied Health
Literacy Center GED
Lloyd and Sandy Taylor
Lucille and Ruth Anderson
Lucinda J. Frakes
Lyn L. Troxler
M. Scott Myers
M. Truman Woodward, Jr. Memorial
Maggie McNeil
Major General & Mrs. Donald P. Litke
Manley Family
Marc B. Chambers Technical Theater
Margaret M. Doering Adult Education
Margaret 'Peggy' Kinsella
Marine Corps League
Marjorie Cox Gray Nursing
Marjorie Cox Gray Radiologic Technology
Martha and Arthur Sizemore Nursing
Martha and Peter Bayer Family
Martha Pullum
Masae Mary Majors Nursing
Masonic Association of District 3
Mattie Kelly Arts Center Ushers
Mattie M. Kelly
McInnis-Woodham
Meagan L. Campbell Health Technology
Meagan L. Campbell Nursing Laboratory
Melissa Howard Nursing
Michael & Charlotte Flynt Environmental Sciences
Mickey and Dottie Gilmore
Mid-Bay Rotary Club
Miracle Strip Veterinary Medical Association
Narboni Family Nursing
NDIA Gulf Coast Chapter
Niceville Valparaiso Chamber of Commerce
Niceville-Valparaiso Kiwanis/Bill Hodge Memorial
Niceville-Valparaiso Kiwanis/Walker Spence
Niceville-Valparaiso Rotary Club/Dr. Gerald Gill
Nomad Association
NWF State College Purchasing & Auxiliary Services
Okaloosa County Sheriff's Office
Okaloosa Gas District
Okaloosa-Walton County Dental Society
Patricia Ackal Nursing
Patricia Rowley Science Education
Playground Kiwanis Club/Garry Fox Memorial
Potter Family Nursing
President's Circle
Pulliam-Collins Dance
Purple Heart Scholarship Endowment
Ready Bank
Ready Family Nursing and Health Technology
Rebecca Duggan Teaching
Regional Utilities/Dewey C. Wilson
Regions Bank
Richard Kyle Brunson Memorial
Robert Henderson
Rosemary Beach Foundation
Ross and Jenny Hamilton Science
Ruth Weeks
S4P Synergy/R.L. Campbell Management Services
Samuel H. and Florence V. Hayes
Sandestin Lions Club/Fred Riley Memorial
Sandestin Lions Club/Kim Evans
Sandestin Property Owners, Inc.
Santa Rosa Golf & Beach Club
Sarah C. Kilbey/Professional Products
Sarah Frances Brooks Pryor
Saundra Daggs Music
Scripps Howard Foundation
Shavey Family – Ethics in Business
Shavey Family
SHRM – Emerald Coast Chapter
Sidney J. 'Sid' and Mary C. Ogletree
Slaton Woollard Substance Abuse Counselor
Smith Living Trust Art Scholarship
Smith Living Trust Nursing Scholarship
South Walton Utilities Company, Inc./Jack Harper
Sprint Theater
ST Keltec/Jennie Hicks Memorial
Steve Barkocy/All Sports Association
Striving for Perfection Ministries
Surge Suppression, Inc. Nursing
Susan Pryor Sloat
Sybil Lebherz Performing Arts
Sylvia Panzer Saunders
Synovus
T. H. Edney Trust
Thomas McDonald
Tomiko K. Taylor Performing Arts
Trustmark Bank
Twin Cities Woman's Club
TYBRIN Corporation
Ulysses Coleman
Vaughan Family
Vicki Richburg Teaching
W.C. Pryor
Walton County Retired Educators Association
Waste Management Systems/Tom Pryor
Waste Management/Wilma Shaw Minority Students
Wells Fargo
White-Wilson Medical Center
Willard and Helen Frogner Nursing
William A. Byrne
William C. Marler
William W. Meigs
Willie Mae Taylor
Workforce Connection
Yolanda D. Thomas
Yvette Loichinger
Program Enhancement Funds
A.L. Nabors Endowed Chair – Business
Allyn C. Donaldson, Jr.
Allyn C. Donaldson, Jr. Entrepreneurial Institute
Alpha Data Corporation BAS
Arts Endowment Challenge – Title III
Carl McInnis Southern Classic
Carr, Riggs & Ingram Conference Room
Charles K. and Eileen H. Arpke President's Conference Room
CHELCO BAS
Costa Leadership Institute
Dr. Robert P. Maxon Distinguished Chair – Nursing
Eva C. Tyler Choral Hall
Fort Walton Beach Rotary Club Chair – Health Science/Nursing
Fort Walton Machining BAS
Frances Herron Dance Studio
Gallimore Center for Healthcare Education
Goetsch Gallery
H. Glenn Bixby Chair – Health Technology
Health Technology – Title III
Health Technology Campaign
Hoyt-Jolley Orchestra
Ira Mae and Gaius Bruce Wellness Classrooms
James & Christian LaRoche Disting. Chair-Poetry & Literature
James H. Taraldson NFSO Visionary
James P. Chitwood Chair – Communications
James R. Richburg Distinguished Chair – Teacher Education
Janet Bullard Campbell Distinguished Chair-Teacher Education
Janet Nadel Morell Conference Room
Jimmy Doolittle Chair – Mathematics and Science
Jimmy Ready Chair – Nursing
John C. Sims Chair – Industrial Technology
Juanita Harbaugh Nursing Classroom
Kathleen "Taty" Saunders NFSO Visionary
Lamar and Tracy Conerly Forensics
M. Elizabeth Shwiller Distinguished Chair – Women's Athletics
Marie Snow Greene Visual Arts Building
Marjorie Cox & Hugh Edward 'Buck' Gray Health Technology Lab
Mary Lou O'Connor Child Development Center
Mattie M. Kelly – Arts
Mattie M. Kelly Distinguished Chair – Environmental Sciences
Mattie M. Kelly Distinguished Chair – Orchestral Music
Maurice F. Mettee Engineering Plant
McIlroy Art Gallery
Mike Huckabee Endowment for the Musical Arts
Northwest Florida Symphony Guild Chair – Orchestral Music
Okaloosa County Economic Development Council BAS
Ramon Thigpen Distinguished Chair – Health Technology
Robert E. Greene, Jr. Science Building
Robert L. F. Sikes Distinguished Chair – Government
Robert M. Kilbey Distinguished Chair – Health Technology
Shirley Howard Classroom
Sprint Theater
Susan Myers LRC Naming
The Arts Center Endowment
Tim and Jan McDonald/Ft. Walton Machining Chair – Technology
Titan Corporation Fund for Project & Acquisitions Management
TYBRIN BAS Project & Acquisition
Vitro Services Corporation Chair – Fine & Performing Arts
Willie Mae Taylor Distinguished Chair – Nursing
Zoghby Learning Commons