NICEVILLE, FL – Before her passing earlier this year, Mrs. Susan Pryor Sloat Myers decided to link her name with Northwest Florida State College's Learning Resources Center with a $1 million dollar bequest. Today, her name is on permanent display on the Susan Myers Learning Resources Center at Northwest Florida State College's Niceville Campus.
Myers was the great-granddaughter of John Thomas and Harriet C. Brooks, amongst the first settlers in the Fort Walton Beach area. In 1868, the Brooks purchased 111 acres of what is now downtown Fort Walton Beach.
Myers' grandmother, Sarah Frances Brooks Pryor, was born in 1877. She married W. C. Pryor, who, in 1915, became the first superintendent of schools in newly formed Okaloosa County; W. C. Pryor Middle School is named in his honor.
Following in her family's footsteps, Susan Pryor Sloat Myers, was active in the community, serving on the city council for the City of Fort Walton Beach and many other community organizations. Susan was inducted into the Okaloosa County Commission on the Status of Women's Hall of Fame in 2005.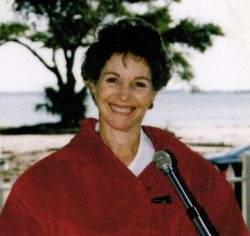 Myers received an associate's degree in humanities from the University of Florida, a bachelor's degree in political science from the University of Colorado and a master's degree in industrial psychology from Southern Methodist University.
She was married to M. Scott Myers, a renowned industrial psychologist who earned his Ph.D. in industrial psychology from Purdue University. Together the couple started their own consulting practice and traveled for 28 years.They moved back to Fort Walton Beach in 1990.
When asked why Myers wanted to support NWF State College, she stated, "The College has a permanent presence in Northwest Florida, with deep roots in the community, much like my family."
In addition to the named building, Myers also bequeathed $90,000 to establish the Susan Pryor Sloat Myers Scholarship Fund.This fund will provide six named scholarships each year for graduates of Choctawhatchee High School, Fort Walton Beach High School, and any other high school that may be constructed in the future to service students of the Fort Walton Beach area.
Myers affectionately titled the scholarships in honor of her family members; M. Scott Myers, Sarah Frances Brooks Pryor, W.C. Pryor, Diana Pryor Sloat, John Gregory Sloat, and Susan Pryor Sloat. Myers was immensely proud of her late husband and pioneer ancestors for the indelible mark they left on her and the history of Fort Walton Beach. This was her way of honoring them while also recognizing her positive community influence and accomplishments.
"Susan's generosity will benefit NWF students for years to come," said Dr. Devin Stephenson, NWF State College president."Her legacy, love of this region and our college will live on through this exceptional gift."
If you would like to learn more about planned gifts, please contact the Foundation Office at (850) 729-5357 or email at foundation@nwfsc.edu to discuss the benefits of becoming a Legacy Society member.

Tags: Bequest, Donor, Planned Giving

Share this article